Make sure Your Wedding is the event of the season
with day-of-details that make a statement
You've seen the beautiful details in all the bridal magazines
now it's your turn
Your guests are some of the most important people in your life. The last thing you want to do is give them a ho-hum wedding to attend. Instead, let's celebrate them! Show them just how special they are by including unique and personal details throughout your wedding that will give them a one-of-a-kind experience they'll never forget!
After all, it's the details that will make your wedding truly spectacular.
But what details to choose? You've seen a million things you like on wedding blogs and social media, but you're not sure what makes the most sense for your big day. You need help figuring out what will make the most impact and truly make your wedding vision come to life. I understand, and I can help.
I'll take you through all the options and endless possibilities and together we'll figure out what makes your heart happy.
Let's get started!
"Details are not the details. they make the design."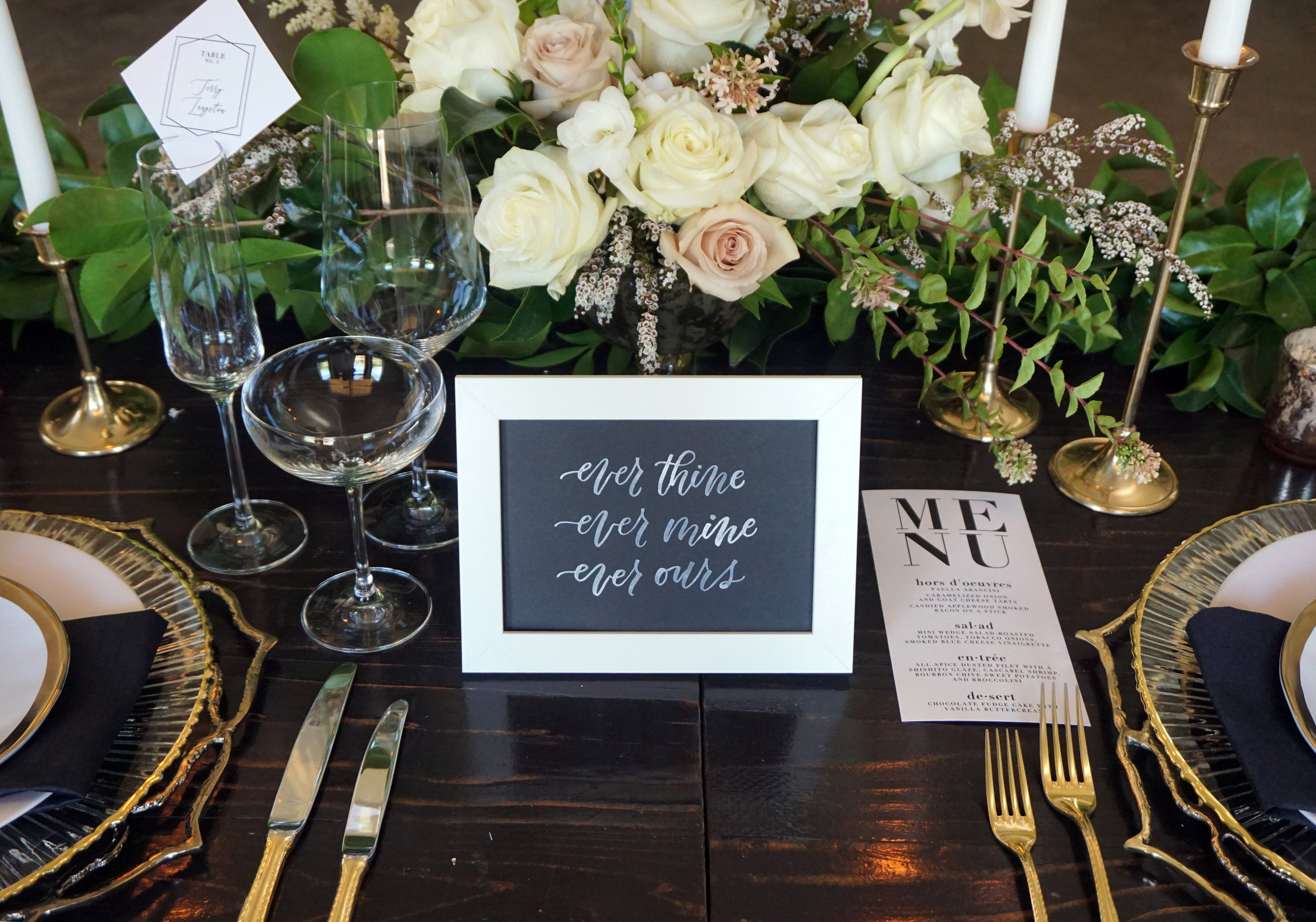 Why Choose Custom Signs and Day-Of Details?
personal details
Hand lettered signs and details are completely custom to you, your guests, and your wedding.
By including personal favorites, colors, and details, you can show your guests how much they mean to you and how glad you are that they're able to share in your special day!
Not to mention, they serve as the best mementos of a truly memorable night.
wow factor
Let's be honest… you don't want to have just another wedding everyone's been to before. You want your wedding to stand out and be 100% wedding blog worthy!
Custom signs and day-of details are a great way to take pride in your big day, surprise and delight your guests, and give them something to talk about… besides what happened in the photo booth!
BUDGEt
While there are plenty of over-the-top options, signs and day-of details can actually be a great way to make your wedding shine without breaking the bank.
A welcome sign, escort board, or aisle runner can add major wow factor, while smaller items like vows books and prints make fantastic and re-usable pieces that double as the perfect details for your photographs!
What Can You Expect from the design Process?
First, we'll chat about what you're looking for and what pieces will make the most impact for your wedding and all of your special guests!
We'll talk about colors, materials, and size. If you have a wedding planner, this is a great time to get their input as well!
I'll create a custom style board for your details and share it with you via your personalized online portal.
Then it's time to start on the design! I'll create several sketches of each sign and detail piece, and you can review and select the one that best fits your vision.
Last, but not least, I'll begin creating your pieces once you've signed off on all the details.
Along the way, I'll send updates and behind the scenes photos of your pieces being made, so that you are involved in every step of the process!
A Few Ideas
to wow your guests